Taking You From Shower To Stage In 10 weeks
Adult Singers Singing Classes and Group Singing Classes in Rozelle
We Are Passionate About
 Helping You 
Reach Your Singing Goals…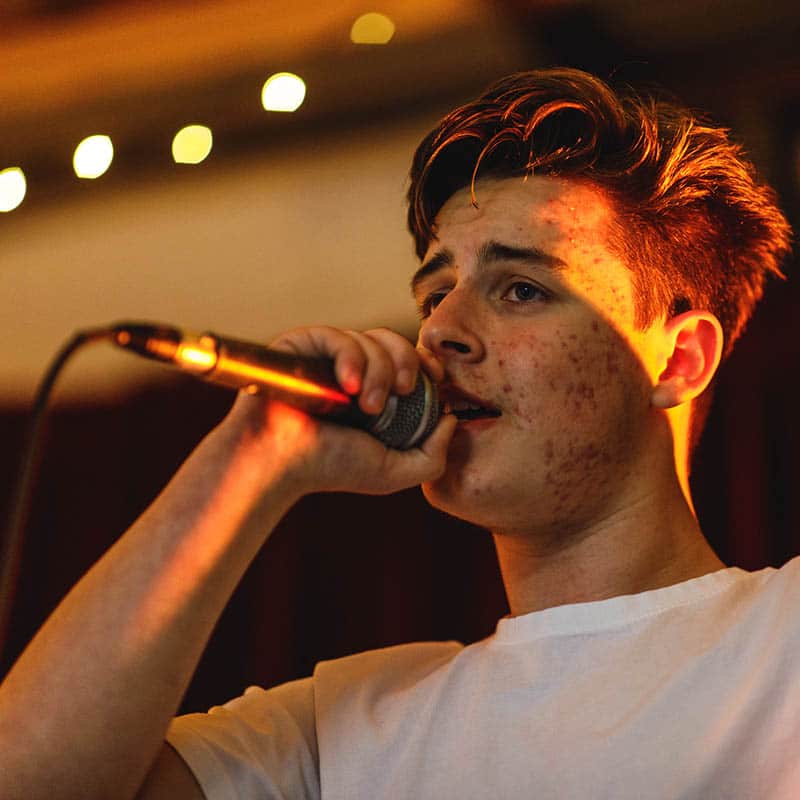 Whether it is:
You want to sing at a wedding, engagement or special occasion (it may be simply singing HAPPY BIRTHDAY in tune!)

You would like to wow your friends or colleagues at karaoke or that special work do
 
You are ready to push through your anxiety, improve your confidence, presence and public speaking skills (step into your vocal power)

You are already a powerful performer but you are looking to step up to that next level maybe secure that part in ( a musical/show) or blow them out of the water at your next audition (of the voice) or have more range and power in your voice

You used to sing before but your career or kids got in the way and now you want to bring it back into focus
 
We Will Help You Achieve and Surpass Your Expectations!
Reach Your Goals With Our Two Powerful Offerings…
Adult Singers
Songwriting and Production
Learn to write, produce and record your own songs working towards your own EP and set list for live performance.
See Our Current and Past Adult Singers Perform Below
We consider it a real privilege to support You to unleash your voice on stage like these performers
A Key Aspect Of All Our Adult Singers Classes will be
Our Specially Designed Adult Scales…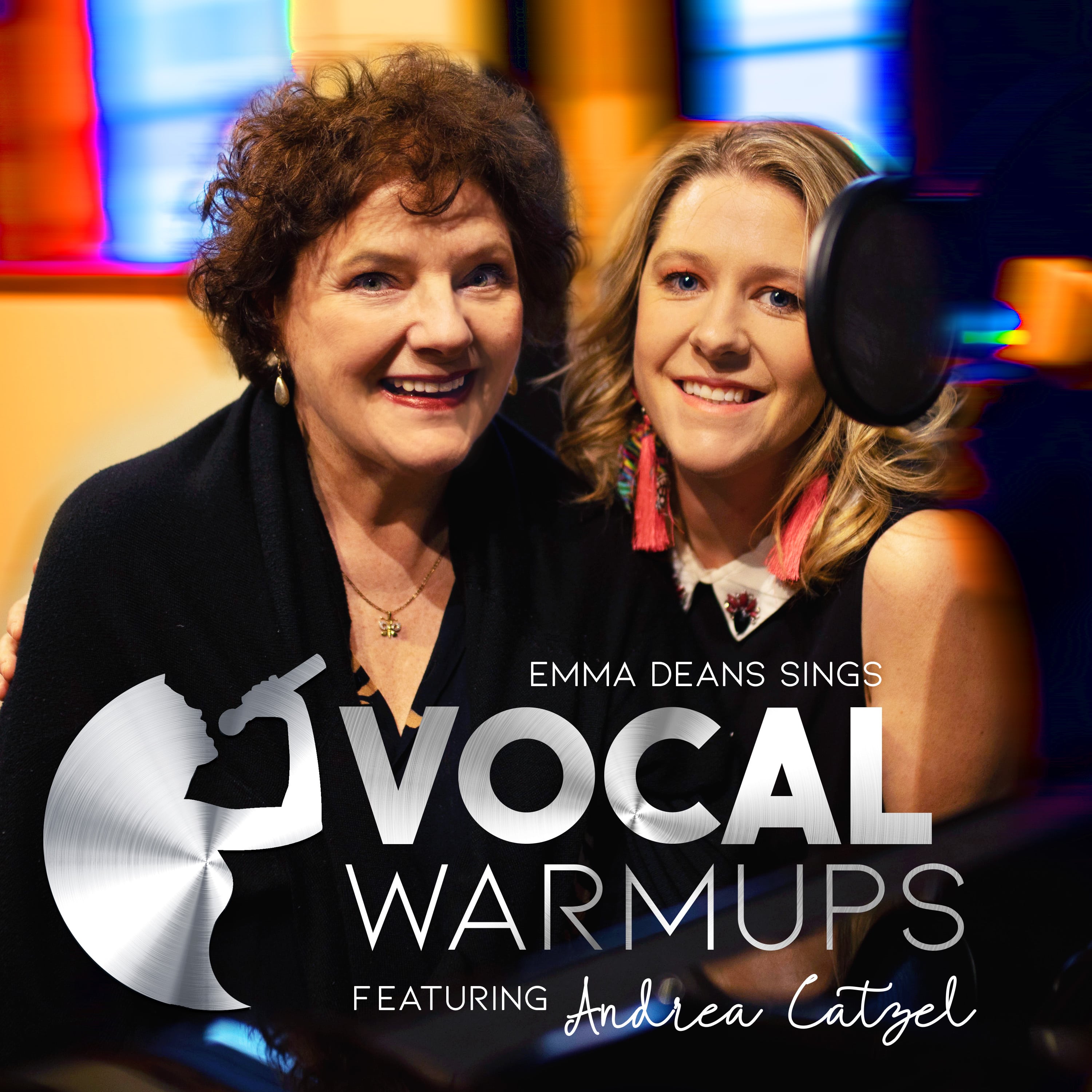 Developed in collaboration with world renowned vocalist Andrea Catzel, Emma Deans Sings Vocal Warmups (Kids Scales Edition) is the perfect accompaniment to your Group Singing Classes. These scales are used at the beginning of every class at Emma Deans Sings Singing School and are recommended to be used as part of your daily practice. These scales are designed to be a powerful tool for singers of all ages and levels to develop the specific fundamental skills required to sing any song, expand your register and improve your tone.
All Our Teachers Are Selected On Their Common Values, Passion For Teaching and Bringing Out The Best In Their Students
We know being a teacher is more than just teaching singing. Your teacher can be a role model and confidant and we take this seriously only picking teachers who fit within our values and passion for helping people express themselves fully in a safe and supportive environment. All our teachers are also performers in their own right. Working across the music industry from performing to production.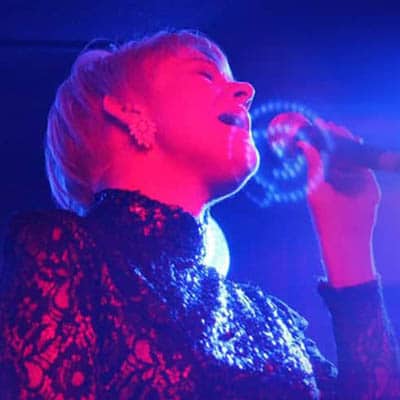 Emmas Bio
Seeking out the training to accompany her passion, Emma took private lessons throughout her teens, going to anyone who could teach her something new. The desire to share what she was learning soon became overwhelming, and she began giving her own classes from the age of 18, continuing to teach throughout her degree in performance at the University of Western Sydney. The techniques she absorbed during that time – including classical and music theatre technique, Alexander technique, forward technique, speech level singing, improvisation techniques and performance and anxiety training – enabled her to develop a distinctive style as a vocal coach, and develop a unique series of workshops, focused not just on how people sound, but on how we all "perform" in our everyday and working lives. As a result Emma has been asked to work closely with a range of organisations and initiatives, from large companies in the corporate sector to youth groups from disadvantaged backgrounds, combining her passion and expertise to achieve inspirational results, whether it be lifting profits and refining the skills of sales people or filling young hearts with fire and self-belief.
In 2005 a fun experiment with 3 of Emma's friends from University led to the formation of an acapella group called "Kaya" for a TV talent audition. The all-girl group quickly became a national sensation, making it through to the final stages of the show (4th place on X Factor) and embarking on a series of sold out concerts across the country. Emma soon found herself living the life of a busy musician, with frequent appearances on ABC radio and collaborations with artists like Jimmy Cliff, Renee Geyer, Lior, John Butler and Human Nature. She has recently returned from her first series of shows in New York, including a showcase for The Lumiphonic Creature Choir at the Union Square pavilion in Manhattan, and is set to release her debut record as a solo artist later this year.
Emily's Bio
Hailing from the coastal town of  Port Macquarie, Emily has always had a strong passion for music. Picking up the piano at age 5, it has been a life-long love ever since. She began songwriting in her early teens, inspired by the likes of Sarah Bareilles, Missy Higgins and Florence and The Machine. During her school years, Emily participated in any musical and creative activity she could, including Jazz Band, where she performed as the lead vocalist and flautist. During this time, she participated in a variety of local theatre shows, in both lead and ensemble roles. Being cast as Sandy in the Grease production was a highlight of this time. 
Emily achieved her AMEB Grade 7 Piano in 2015 and has taught many students from a range of abilities and ages. In 2017, after completing the HSC, she moved to the UK and worked as an assistant teacher in the creative arts department of an independent prep-school. Here she assisted in music tuition, private instrument classes and choirs. In May 2020, Emily completed her Bachelor of Music, Songwriting with a voice major at JMC Academy in Sydney. She firmly believes that music should be a part of every young person's life and as it plays a key role in their learning and development.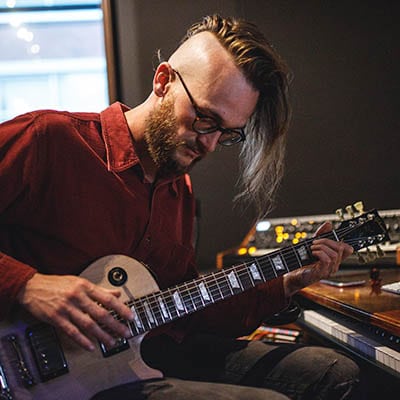 Ryans Bio
Ryan has been writing, performing, arranging, recording, and producing music from the age of 15, and now has 21 years of industry experience including international performances in over 25 countries. He is a passionate, and friendly teacher, keen to see his students grow in their love of music, performance, and self expression. On top of tutoring guitar, ukulele, and live looping, Ryan offers personalised music production & recording packages for his students to experience first-hand the journey from songwriting to streaming. With production credits under his belt which have earned a place on popular, official Spotify playlists, students have the rare opportunity to be empowered by learning how to build their ideas into fully produced songs with as little equipment as a laptop, a USB audio interface, and a microphone. Ryan's holistic approach helps you understand your creativity above & beyond your instrument of choice. Whether you want to sequence a drumbeat, write the next hit song, or just nail your favourite guitar riff, Ryan has you covered.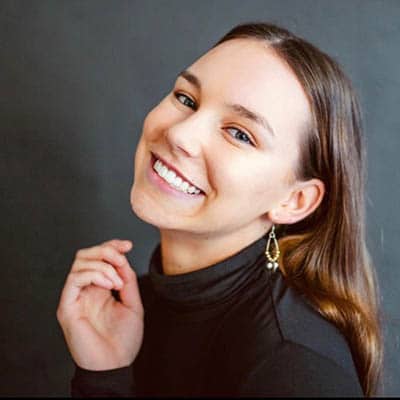 Emilys Bio
A passionate, experienced and committed performer who leaps enthusiastically into all opportunities that present themselves. Her desire to perform began at the young age of 3 where she began dance lessons at Davin Griffith Jones School of Performing Arts, since then she has trained at 5 different dance schools including The Next Step Performing Arts in a multitude of styles. Her development in dance encouraged her to move towards a more holistic approach to performing arts and she began private singing lessons in 2008 as well as participating in various drama groups and classes. In 2011 Emily tried out for her first musical 'Oliver!' with Packemin Productions and gained a place in the children's ensemble. This experience sparked her interest in musical theatre and she has, since then, been involved in over 20 musicals with both lead, supporting and ensemble roles. Her professional musical theatre debut was the production of Chitty Chitty Bang Bang at the capitol theatre in 2012/13, where she learnt a lot about the professional world of performing arts. More recently, Emily has been involved in Shrek the Musical, Cats, Les Miserable, Annie, Mary Poppins, Beauty and the Beast, Back to the 80s and Joseph and the Amazing Technicolour Dreamcoat. This year Emily was fortunate enough the play the role of G(a)linda in the Riverside Girls High School production of 'Wicked'. Emily has recently finished the HSC (2019) and was voted to obtain the leadership role of Performance Captain at her school. This role required her to run and organise the weekly school choir and support young performers at her school in reaching their potential and building confidence. Not only does Emily have a wealth of experience in musical theatre but has also been in a number of professional dance shows and shorts films. Both of her short films 'Mother' and 'Baby baby' were selected for the Melbourne International Film Festival in 2015 and introduced her to other exciting areas of the performing arts. In 2017, Emily was selected to join the cast of 12 girls in the Australian premiere production of 'Girls Like that' with ATYP and the following year, 2018, she was selected as a featured artist for Southern Stars 'Iconic', where she sang both solo and in group performances. Emily is only 18 years old and already has a vast array of experience in all areas of the performing arts, she is always happy to share her experience in order to assist young performers in their creative journey. She is extremely committed to helping young people develop their skills and not only grow as performers but as individuals as well.
Brodies Bio
Brodie is a passionate, energetic and down to earth Singer-Songwriter, Voice Coach and Performer. Completing her Bachelor of Contemporary Music at JMC Academy in 2019, Brodie continues to be a familiar face in Sydney's music scene. Growing up on the coast, with an itch for music and performance, she took part in many local productions, such as Players Theatre's sold-out show 'Grease The Musical', and was blessed to play the roles of The Cheshire Cat and Amy Winehouse in local productions. Singing her way through school, she was selected to be a part of 'Valley Vox Choir', where she had the opportunity to sing at the Opera House and School Spectacular 3 years in a row. Alongside her passion for singing, she was also interested in Musical Theatre, Dancing at state levels along the Mid-North Coast up until 2017, and working as a featured dance choreographer for her schools musicals. Brodie was also selected to enrol in a private Drama Institution, who were lucky enough to be selected for the State Drama Festival in 2010, performing at the Seymour Centre in Sydney, which was always a dream she had growing up. Her hard work paid off when she received the Coastal Music Award both in 2015 and 2017, as well as the Performing Arts award in 2016. Further, being awarded her school's Academic Excellence Award for 1st in HSC Drama and Music, securing her place as a featured singer in 'Bravissimo'; a concert held at the 'Glasshouse', which featured the best music students from around the coast. After leaving High School, she set out to pursue her dream as a musician, auditioning for Berklee's sister school, JMC Academy and enrolling as a Songwriting & Vocals Major. Studying Music at a higher level opened up her eyes into the Music Industry, allowing her to work with reputable musicians and producers and be trained by music professionals from an array of backgrounds, including: voice technique, composition, songwriting, music theory, ear training and production. Whilst Brodie was still studying, her passion for songwriting grew even more, writing new songs and creating demo's each week. This helped her become a selected artist in Universal Music's Artist and Repertoire program that took place at JMC Academy. Brodie's talent, passion and hard work enabled her to become a paid, working artist, gigging around Sydney at venues such as Lazybones, Bed Bar Glebe, Cafe Noun and Chatswood's Student Festival. Brodie has also been working hard in the studio, writing her own music and collaborating with other artists, releasing music in 2021. Brodie will also star as a leading role in an upcoming production of 'Company', Sondheim musical, showing at the IO Myers Theatre late 2021. Not only does she have a passion for singing, performing and songwriting, but holds an overwhelming affection for teaching. Brodie has been teaching for a number of years now, specialising in vocals and songwriting, helping aspiring musicians reach their goals. Brodie has an enthusiastic and compassionate teaching approach, and aims to build her student's confidence, passion and musicianship.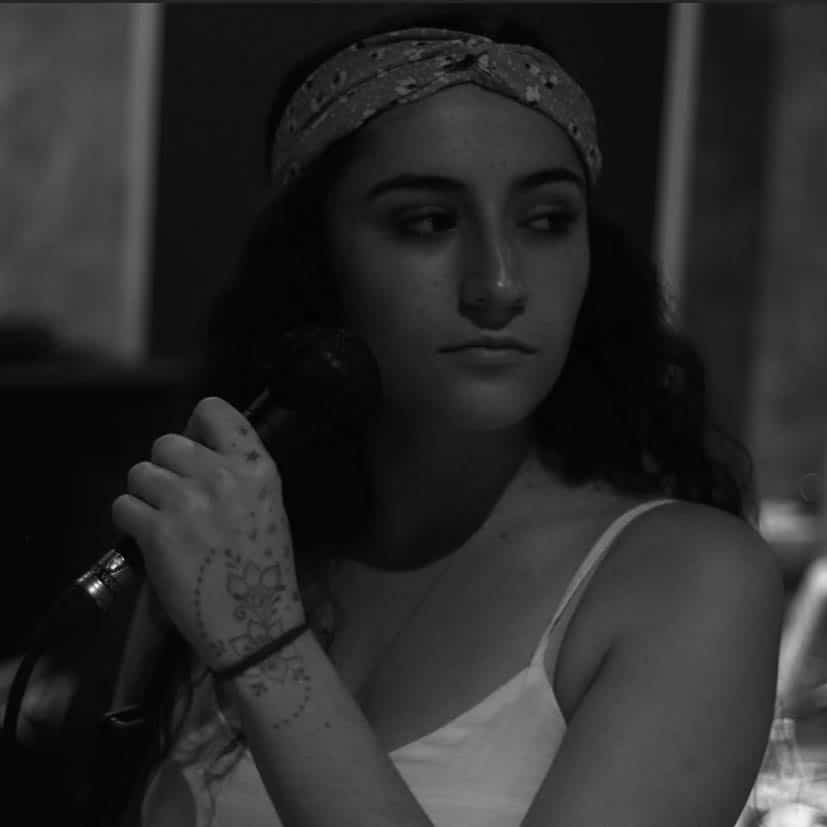 Courtneys Bio
Courtney
Egginton a 21 year old singer songwriter from Sydney, grew up in the Sutherland shire and was introduced to music at a young age starting singing lessons at the age of 13. Recently finished a bachelor of song writing at JMC and graduated from Australian Performing Arts Grammar school in 2017. In the last two years started gigging around Sydney in an acoustic duo and band as the lead vocalist. Travelled to Singapore at the end of 2019 as a backing vocalist for an international artist. 
Working in child care I have gained the experience of working with young children and finding strategies to help teach and make learning music fun! Having a wide understanding of vocal technique, I have been able to mould my own voice to sing in many styles such as rock/pop, ballads, funk and musical theatre. 
Emma is an absolutely amazing teacher, I was lucky enough to find her through one of her amazing monthly singing groups. I was looking for another teacher as I had moved interstate. I have had various singing teachers both interstate and internationally and right from that first group singing session I knew I had found my new teacher and I knew she was going to be special. Her voice is absolutely amazing as are her methods but something that is so very unique how she is so amazingly supportive as a teacher and her ability to absolutely sky rocket your confidence. I have always loved singing but been absolutely petrified that I wasn't good enough. Through Emma my confidence has soared and I have pushed past a barrier and been able to sing to a wider audience and found my voice and I love singing. She has been amazingly patient with me , as it is 36 years of self-doubt and she has just supported me and very gently pushed me to doing what I love. I can't recommend Emma enough there are a lot teachers out there but she is just special and every lesson is fun but you come out feeling great about yourself afterwards.
Amy
I originally went to see Emma in order to develop confidence for public speaking and to learn to breathe more deeply (I had experienced extreme muscle tension in my throat and chest for many years). I was incredibly nervous at my first lesson as I had never sung in front of anyone including family and friends. I always refused to sing Happy Birthday and avoided karaoke like the plague. Emma was great with me and made sure that I was challenging myself at a pace that I was comfortable with. After my first few lessons I had learnt valuable techniques to assist my breathing and had sung in front of someone for the first time. A year or so later, I still see Emma every three weeks because I have learnt to let go and now singing has become enjoyable for me! This year, with Emma's help, I achieved all of my New Year's resolutions in relation to singing and have now performed twice on stage in front of a crowd. Not only that, I sung in front of my fiance for the first time this year, and now we are producing a song together! Overcoming my fears about singing has had a really positive effect on my relationships, my confidence, my teaching technique and my enjoyment of life. Emma's relaxed, yet focused guidance and wholehearted support have made these changes possible. Thanks Emma!
Sarah
We are Excited & Honoured to Have You Join Us
In Our Adult Singers Singing Classes!
Please fill in the form on the right and one of our team will be in touch to discuss the classes and find a time that best suits you!
Please fill in your message with as much detail about what you are hoping to achieve by singing with us at Emma Deans Sings Singing School and we look forward to working with you soon.